Khan Singh (4)
Faction
Independent
Included in
Gen Khan Promo
Skill
6
Elite Talents
1
You do not pay a Faction penalty when assigning Khan or any [Elite Talent] Upgrade to your ship.
If any Captain in play has a higher Skill Number than Khan, Khan's Skill Number equals that Captain's Skill Number.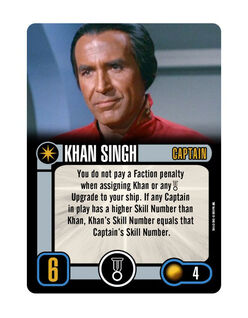 Captain Khan Singh (Promo)
Errata
Khan can only copy the Skill Number of a face-up Captain card, and cannot copy the Skills of tokens or other cards with "effective" skills.
Source: Wizkids Official Rules Forum