Polarized Hull Plating (Romulan/I.R.W. Praetus Expansion)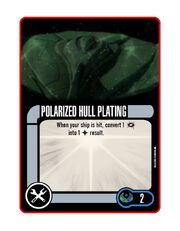 When your ship is hit, convert 1 [Critical] into 1 [Hit] result.

Does this effect occur against every attack, or just once per round?
As worded, this occurs every time the ship is hit.
Ad blocker interference detected!
Wikia is a free-to-use site that makes money from advertising. We have a modified experience for viewers using ad blockers

Wikia is not accessible if you've made further modifications. Remove the custom ad blocker rule(s) and the page will load as expected.