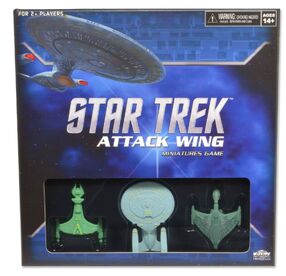 Star Trek: Attack Wing is a tactical space combat miniatures game, featuring pre-painted ships from the Star Trek Universe.
By using the FlightPath maneuver system* (licensed from Fantasy Flight Games), players engage in exploration and combat, traversing sprawling Star Trek space maps made available via an in-store Organized Play program. As commander, players have the ability to customize, upgrade, and assign famous crewmembers to their fleets, which feature ships from the series' prominent empires and forces as well as special stats and abilities, and unique maneuvers on separate Combat Dials.
Star Trek: Attack Wing is a standalone game which uses the core rule set of FFGs' FlightPath game system with a Star Trek twist, but is not compatible with other FlightPath games from FFG. The FlightPath maneuver system used in Star Trek: Attack Wing is based on the original game design by Jason Little.
Information
This is the starter set for the Star Trek Attack Wing game. It comes with 3 pre-painted ships and everything you need to start playing a two or three player game. The base set can be expanded with the additional expansions which add new ships, captains and upgrades.
Ships Models
Galaxy (Federation)
D'deridex (Romulan)
Vor'cha (Klingon)
Ship Cards
Captains
Federation
Elite Talents
Federation
Crew
Federation
Weapons
Federation
Tech
Write the second section of your page here.
Full Contents
Rulebook
Quick-Start Rules Booklet
3 Painted Plastic Ships
3 Transparent Plastic Bases
6 Transparent Plastic Pegs
3 Ship Tokens (double-sided)
13 Maneuver Templates, consisting of:

3 Turns
4 Banks
6 Straights

3 Maneuver Dials (each consisting of a faceplate, a dial, and a pair of plastic connectors)
15 Action Tokens, consisting of:

5 Evade Tokens
1 Battlestation Tokens
1 Scan Tokens
2 Cloak Tokens
3 Red Target Lock Tokens (double-sided)
3 Blue Target Lock Tokens (double-sided)

12 Shield Tokens
3 Auxiliary Power Tokens
3 Critical Hit Tokens
7 Captain Tokens (double-sided)
6 Ship Cards
17 Upgrade Cards
33 Damage Cards
5 Red Attack Dice
5 Green Defense Dice
1 Range Ruler