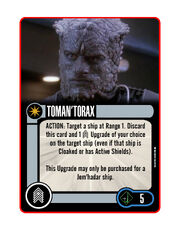 Crew
Toman'Torax (Dominion/5th Wing Patrol Ship Expansion)
Action: Target a ship at Range 1. Discard this card and 1 [Crew] Upgrade of your choice on the target ship (even if that ship is Cloaked or has Active Shields). This Upgrade may only be purchased for an Jem'hadar ship.

Write the second section of your page here.
Ad blocker interference detected!
Wikia is a free-to-use site that makes money from advertising. We have a modified experience for viewers using ad blockers

Wikia is not accessible if you've made further modifications. Remove the custom ad blocker rule(s) and the page will load as expected.