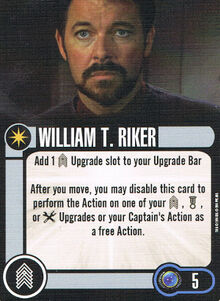 This crew Upgrade version of Riker is from the Enterprise-E expansion.
Add 1 Crew Upgrade slot to your Upgrade bar
After you move, you may disable this card to perform the Action on one of your Crew, Elite Skill or tech Upgrades or your Captain's Action as a free Action.
Cost: 5
Ad blocker interference detected!
Wikia is a free-to-use site that makes money from advertising. We have a modified experience for viewers using ad blockers

Wikia is not accessible if you've made further modifications. Remove the custom ad blocker rule(s) and the page will load as expected.